GrayGay Dating Site Reviews and Recommendations
We have rated and reviewed the major dating sites for gay seniors and admirers. That's not to say that you can't find people through other dating sites but you do increase the odds of doing so by using the larger databases or specialist sites for seniors and admirers. The larger sites charge around $20 per month for full membership (and some much more!) so knowing where to look can save you time and money. The availability of low-cost dating scripts has meant that almost anyone can start a dating site but as the scripts are not usually gay orientated (or support intergenerational relationships) the facilites are poor without substantial modification.
The site rating is based on their ease of use, number of profiles, matching facility, membership cost per user, security and features - if you disagree with the rating or want to add your own review click here.
We have noticed that Caffmos, 69Daddies, and Findgaydad allow search engines to index their contact database. This means that if someone searches on your nickname or a specific phrase in your profile, they could find your details (including your sexual tastes) without being a member of the site concerned - this includes your employer or partner!
So don't use anything in your description or user ID that could also be used to identify you if you are at all worried about privacy.
Newbies start here
If you are new to online dating, please read the SafeSurfing Guide to online dating which includes invaluable advice to ensure your success, safety and privacy. Or browse the Dating Advice books. You might also be interested in the review of chat and video chat systems.
Categories
General - Market leading dating sites for gay and straight advertisers
Gay Senior/Admirer - Specialist dating for mature gay men and admirers
Gay All Ages - Gay sites with a complete range of ages
Seniors - Specialist seniors dating sites
Couples - enables couples to meet others for friendship or dating
Feature Comparison Table
For a comparison table of features of the major dating sites for older gay men and admirers, click here
.
(please send table updates/corrections to info@graygay.com)
Summary of Ratings
Younger for Older
If you're just looking for sex contacts, then we recommend Gay.com (USA), Gaydar (non-USA) and OutPersonals. For relationships we recommend Match.com, and Yahoo.com (USA). From the specialist sites we recommend for relationships CAFFMOS (UK) and Apollo Network for sex we recommend Silverdaddies.
Older for Younger
Age matching has a higher importance when for mature men looking for younger. For sex contacts we recommend Gaydar. For relationships, Match.com and Yahoo.com (USA) general sites and from the specialists we recommend CAFFMOS (UK) Silverdaddies (Everywhere) as they have the largest databases.
Older for Older
For mature men looking for their peers, age matching is of the highest importance. Although it dos depend on users filling in their profile properly. So from the non-specialist sites we can only recommend Gaydar for it's age matching search. For relationships, Match.com and Yahoo.com general sites and from the specialists we recommend Daddyscape, CAFFMOS , Apollo Network and Silverdaddies as they all offer age matching.
What to look for on a dating site
Free Trial
Most paid-for sites offer a free trial or low cost period which gives you an opportunity to find out if it offers what you are looking for.

Automatic renewal
Be aware that many of the big dating sites that require paid membership will renew membership automatically by billing your credit card. You have to change your Account Profile to turn this "feature" off if you don't want to renew automatically.

Age Matching
An important feature, particularly for older people looking for partners, as it matches your age with the age requirements of advertisers. For example, if you are aged 70 and search for 20-40yo men you want to only see a list of those who may be interested in someone of your age and not the complete list.

Profile Matching
This facility matches your requirements with the requirements of the advertiser in a search, which enables you to restrict your results only to those who have all the features you want. They often indicate the closeness of your match to them and vice versa.

Filtered Email Updates
Some sites allow you to receive updates to your search criteria by email with brief details and then you can connect to the site to see the complete profile but you often have to be a full member to be able to contact them..

Blocking
Most sites have a blocking feature which enables you to block messages from unwanted admirers

Instant Messaging & Email
Some sites have a pop-up instant messaging facility which enables you to send a short private message to other users. Most of the better sites also hide the real email address of the individual and will forward emails to the advertiser. In addition, many will send an email notification that you have received a message.

Security
Avoid sites that expose your details on a basic web page with no search facility. Apart from making your details indexed by search engines, your email address can be picked up by spammers. If you don't have to fill in a profile form or a search form, generally we would suggest the site is insecure and should be avoided.

Privacy
If you are concerned that others may find your profile that you don't want to, see the SafeSurfing Guide for privacy advice and tips.


***Featured Site*** (webmasters click here)
NiceDaddies

Dating site with extensive facilites and 15.6K personal ads (02/2007). Gallieries, video clips, video messages, IM & chat. Also includes hot or not photo rating, and public and private photo galleries. Search facilty (called Browse) allows fairly simple search proximity to location in USA and travel itineraries. Date matching rates your match to the advertisers requirements and vice versa.
General Dating Sites
Match.com

The biggest dating site on the Internet with 8M plus members (2006).
It has all the features that a good personal ad service must provide to get our highest recommendation.
You can sign up for free, post your profile and search for potential matches within 5 minutes of registering. Their two-way matching service allows profile preferences to be matched in searches.
They offer a completely anonymous system for contacting people you are interested in and a blocking feature to prevent those that you are not interested in from contacting you or even seeing your profile.
Yahoo Dating

Second-largest dating database with over 3M users. Regions covered include USA, UK, France, Germany, Australia & NZ, China , Hong Kong, Taiwan, and Brazil.

You don't have to be a Yahoo member to browse the ads, but you must join Yahoo to place an ad. A paid subscription is required to be able to contact other advertisers. Subscribers can use the enhanced ad features which allows up to 5 pictures and a more detailed description. Subscriber ads are placed at the top of the list when a search is done.

Does not allow any adult content and the profiles are very detailed although I would say they are slanted towards heterosexuals (e.g. Do you want children?). Search criteria are also very detailed and they offer extensive age and profile matching.

You can receive weekly or daily emails with profiles that match your criteria (including thumbnail pics) and if you have Yahoo Messenger, you can arrange to receive an alert when you receive a message in your personal mailbox.
General Gay Personals
Gay.com

Claims 3M dating ads and divides it's profiles into:
Basic: gender, age, location etc.
Interests: Allows you to reveal more information about the types of things that interest you.
Adult: questions specific to your sexual interests. You can control who sees your Adult profile with the privacy options.

Gay.com dating offer Adult (sex-orientated) or Relationship searches but neither offer age-matching. There is no profile matching facility although filtered regular emails are an option.

All adult photos are now hidden unless you take out Premium membership costing between $9.95 for one week or $89.95 for one year.
GayAddress.com
This site has 30,000 personal ads and many of these are older/younger related since it is linked with PlayDad.com (an adult senior pay site). There are 30,000+ profiles (09/2003) and ad placement is free. A profile is required to search and standard users can search by location and age. Gold Membership costs $12.95/month and allows profile sort, only guys with pictures, keyword and username search, unlimited search results and pics.
The profile information required has many more details (height, weight, body type, hair etc.) that you can't search on and there is no profile or age matching. I would have given them a higher rating because of the number of contacts but the poor search facilities and lack of age matching make it harder to find what you want.
Gaydar
Gaydar is probably best know in the UK and Australia and the accent is definitely on sex as it promises "what you want, when you want it".
Profiles are free to upload but free access gives limited messaging, email and searching.
Gold membership adds increased number of viewable profiles, messaging, emails saved, photo album, friends online notification, thumbnails online listing, filtered email. Platinum membership adds all Gold features plus unlimited viewable profiles, unlimited and emails, save 600 messages, add photos to your photo album for other Platinum members, 24 hour message history.
Searches have an Age Filter to match age requirements, even at basic membership level, but the results are shown as a list without thumbnail photos, making searching through the list a question of clicking on each one which can be laborious.
Thumbnails Online offered with Gold or Platinum membership does allow you to apply your search criteria and see thumbnail photos of those online who meet it and you can then send an online message.
Also have extended chat-rooms and their mature men's forum is shown as 50+.
G-Rated Guys

For responsible gay male relationships and friendships. G-rated provides a community of individuals and couples who believe in committed, long term, monogamous relationships or younger people who are on their way to forming that belief.

However, the site is now part of the TangoWire network so while the database may be larger the search facilities are fewer.
Guys4Men.com

Free site with over 30,000 profiles of which 3,900 are aged over 50. Very detailed profiles provide excellent matching service including age matching.

Free to post a profile and free to use all database searches and view unlimited profiles and all members pictures. It's free to message unlimited guys too.

If you contribute money or refer new members you receive preferential placement in the search results and other benefits.
OutPersonals

Part of the Adultfriendfinder group, Outpersonals boast over 500,000 gay men and is very sexually orientated - at least judging by the photos.

Although their Free Membership allows you to post a profile you can only respond to advertisers more than once every 24hrs if you take out a membership.

Silver membership allows you to view photos, send unlimited emails and gives enhanced searching facilities.

Gold provides premium listing of your ad, filtered email, priority ad listings and top search facilities.

No profile matching
PlanetOut

Has around 350,000 profiles listed in the dating section. Anyone can create an extensive profile with pictures at no charge, but to contact someone, you must join and pay a nominal monthly fee.

It is part of the Planetoutpartners Inc group which includes gay.com and the Outandabout.com travel zine - although the dating service on Planet-out tends to be less sexually charged than gay.com

PersonalsPlus is the premium version of dating which offers Search Agents that do the work for you, Bookmarking and Blocking of profiles, Multiple Photos in your profile, and more. Only paid subscribers to PersonalsPlus can save searches and reply to members who show up in their ad searches.

No profile matching
Gay Senior/Admirer Specialist dating
69daddies.com

Free site boasts over 1000 profiles (02/2007) but there do seem to be many scammers from Africa amongst them. Ads are free to place although the repetitive ads from females that appear on the left margin are a little off putting.

Searching ads is also free and can be restricted by location, age, keyword and photo, although there is no age matching.

Additional features include downloadable daddy video clips ($5 each), video chat and email notification of matches.
Apollo Network

Has 194 senior/admirer profiles. Ads are free to place but if you want to exceed the limit of 250 character or add a photo you are asked to make a minimum $25 donation.

Searching ads is also free and can be restricted by location, age, keyword and photo, including age matching
Benboxer

Has 4000+ profiles (03/2007) of whom 34% are aged over 50, and 16% are older for older. Free to join and create a profile with pictures and free to search and contact advertisers. Paid membership allows access to enhanced features such as photo galleries and matching. Profile categories include older for younger, younger for older and older for older.

Additional content includes pictorials, stories, forum, chat, and a mailing list that allows pictures.
CAFFMOS
(Contacts and Friendship For Men Over Sixty) UK and US Contact ads for mature men and admirers. Also have off-line contact magazine and regional groups in the UK.

Have 20,000+ contacts (02/207) in of which 60% are under 50. 8K+ contacts are UK-based and 6K+ from the USA.

Bronze members are restricted to Basic searches and can view up to 8 profiles and initiate 3 messages within a 24 hour period.

Gold membership (InterGold $15.00 for 12 Months Membership or UKGold £10.00 for 12 Months Membership) provides advanced searching and matching facilities. Picture Albums, WebPage, Journals, Advance Search, Quick match, "Who's ON" with Unlimited Messaging.

Also offer themed galleries, resort reviews & photo rating.
Chiron Rising Online

Dating service has 650+ profiles (03/2007) and is based on an off-the-shelf script, with some modification, but with no age matching and is still slanted towards heterosexul relationships. Also has galleries and "daddy videos" on DVD.
Daddy Depot

Another dating site for older/younger men using one of the dating scripts with some customisation for the purpose. Has 3900+ profiles (03/2007).
Daddyscape

A dating site for older/younger that was great when it launched and then suffered from both Hurricane Katrina and a hacking attack. Now it's back with 14,000 members, 28% aged over 50 (02/2007). Search allows age matching. Premium features available from US$8.95 per month. Promises new interface soon.
Daddyhunt.com

Dating site for older/younger men offering matching service with the accent on sex. Has 200,000 profiles which are free to place (Although many only have one line of text and no photo). Over 5000 daddies and admirers online at peak times. Premium membership gives additional & adult photos, message receipt, message save and advanced search. No age matching but users are self-selecting into "Daddy" and "Hunter" categories. However at least 500 contacts aged over 50 are in the "Hunter" category and many of them are looking for younger men.
Daddylover.com

Site provides a mixture of dating, galleries and original streaming video - some of which requires subscription to access.
Dating is free and includes detailed profiles and match facility on emails (but no age matching) with 20,600 profiles (06/2005) of which only 4300 are aged over 50.
Galleries are also free and images are taken from those uploaded to profiles and from the internet.
Video content requires subscription to access.
Standard Members register for free and may create a personal profile. They can receive unlimited mail from other members, but can only send two emails a day. Premium membership (from $5 per month) provides enhanced dating features and unlimited mails. All Access membership (from $15.00 per month) allows access to original video content.

EuroGay Seniors

A laudible ideal to create an online community for European GLBT seniors and admirers, but the proof is in the execution and an off-the-shelf dating script with minimal modification, poor graphics and some poor English may not be enough. Features include profiles with galleries and audio/video, personal weblogs and friends-lists, Audio/video chat, IM and recorder, newsletter. 130 profiles (09/2006)
FindGayDad (was GayDadSon)

Offers offering dating ads with thumbnail searches, currently has 1400 profiles of which 35% are aged over 50. Profile and searches are free but there is no age matching and the search criteria is fairly simple although keyword searches are allowed. However, since January 2006 you cannot send any message without being a Premium member - although you can reply.

Also offers chat and bulletin board.
Gayseniors Gallery

Launched in September 2004, the Gay Seniors Gallery provides profiles and pictures of bisexual and gay older men. The design is nice however, the search facility is very limited offering only text search or by location and the database is small.

Full membership seems expensive at $39 annually but allows access to more images and additional photos on profiles plus video chat. The gallery is only made up of images of members so there is no original content.
GKiss.com

Nice looking site but mainly aimed at younger men - at least judging by the images. Difficult to assess how many contacts there are due to the search system but does have some older contacts.
However, you can't do more than a simple search or contact anyone (except to send them a "wink") without taking out Gold membership costing between $9.95-$19.95 per month (depending on membership period).
HotDogDaddies

For ruggedly good-looking, in-shape man—who like the attention of other men. Free to post a profile if you upload pics otherwise subscription is required. Has 311 profiles (02/2007). Profile is very extensive, if sexually charged. Also offers T-Shirts and Jewellery.
LOVE OLD

"A social network for gay older men and the hunks who love them". Currently free and with 2100 members. Provides chat, video sharing, forum, groups and more.
LOVE OLD is a social network for older men and admirers but not an adult network. Pornography or images of sexual acts, nudity intended to sexually arouse the viewer and graphic photos or videos are NOT permitted. Based on the Ning network which means your ID can be shared with other Ning networks.
MayDec.com

Dedicated dating site for mature gay men and admirers in the USA only. Profiles are free to place and are categorized May (younger) or December (older) although this is a little arbitrary, as 471 advertisers aged over 50 have put themselves in the May category - although though some are older seeking older. As at 02/2007 it has 2500 profiles in the May category and 2480 profiles in the December category.

Ads include detailed profiling information and photos but you have to subscribe to the site to contact other users.

The site has email notification of messages and allows online chat including a favourites list. Proximity searching. No age matching.
NiceDaddies

Dating site with extensive facilites and 15.6K personal ads (02/2007). Gallieries, video clips, video messages, IM & chat. Also includes hot or not photo rating, and public and private photo galleries. Search facilty (called Browse) allows fairly simple search proximity to location in USA and travel itineraries. Date matching rates your match to the advertisers requirements and vice versa.
The Older Gay's Club

New free site (01/2006) offering dating ads with a few new features such as adding collector swops, for sale/buy items and gay business address to a profile. New features added all the time. Also provides chat and a separate gallery.
OlderMen Online

Free dating site with 1800+ profiles, galleries in categories with ratings, forum, text chat, blogs, desktop messanger and downloadable video clips. Search (called Browse) is fairly simple even in advanced (Extended) search mode with no proximity search or age matching. As it seems to use an off-the-shelf dating script there are some references to females too.
MyLord Dating

Germany-based dating site for older men and admirers run by the propritors of the MyLord bar in Cologne (Koeln) Germany. Offers browse/search & matching profiles (but no age-matching) but because it is a modified script, it isn't very gay-orientated. Has 4600 profiles (02/2007) around 50% from Germany.
Premium service offers better search, access to xxx pics, video clips, and video chat amongst other features.
SeniorLover

Multi-lingual (English/Spanish) nicely designed site with approx 8500 profiles (Feb 2010). In addition to execellent dating advice, it offers suggestions for music for older and younger, places to visit, movies and articles from members. Premium membership offers unlimited membership, more profile pics, gallery listing, gallery contacts.
Silverdaddies

The leading dating and galleries site for admirers of mature gay men.

Currently, the best specialist dating sites for seniors/admirers with nearly 190,000 profiles (11/2008) of which 65% are based in the USA and 42% are aged over 50.

Profiles are free to place include detailed profiling information and photos. Basic membership only allows you to send two messages per day. For $10 donation the Premium Features are enabled for 3 months which remove the message limit and enable you to see more information about other users including photo galleries and video clips. Additional features include separate galleries of seniors and admirers, videos and live chat.

Age matching was added in 2008, so it's now even better for older/younger and older/older searches. Premium Features include the ability to allow only those who meet your criteria to contact you as well as unlimited messages, unrestricted webcam chat and ability to view profile gallieries and videos. Search criteria is extensive including age, height, weight and location as well as the availability of a photo, profile text or video clip.

Video chat facility is excellent and very fast and divided into older/younger and older/older rooms. Travelers feature enables you to add your details to locations you are traveling to (for up to a month) and to have your profile show up in searches in that location.
SilvermenDating
(April 2008)
A new dating site that is connected with the Silvermen and Silvermenshop sites. It provides photos, videos, groups, blogs, forums, chat and for premium memnbers, movies. Standard members have restricted access to view profiles and to sending and receiving messages.
The Prime Timer
(Nov 2008)
A senior-friendly and extensive dating site and information resource including travel guide (with content licenced from GrayGay.com). Features include profile matching and match emails as well as extensive search including proximity searching. Also includes a Forum, Video Chat, message templates, hotlists, event calendar and photo gallery - although the latter is not fully integrated in the site.
XXX-Seniors

Combined Blog and free Dating Site "designed from seniors for seniors and their admirers" The dating service uses an off-the-shelf script with a little modification so it's still rather hetero-orientated and the design is not very senior-friendly. The dating site is rather difficult to find and consequently there are few contacts yet.
Senior Dating Sites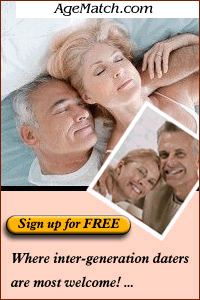 AgeMatch.com

Bills itself as "the best dating site for inter-generational lovers!" and is mainly geared towards straight advertisers but also has a large number of gay/bi profiles too (exact numbers are difficult to gauge due to the search options).
Does not allow overtly sexual content and age matching is included as standard.
Adding a profile and searching is free but you can only search by age range unless you take out Gold Membership (from $19.95/month) which gives advanced searching and allows you to email advertisers and send instant messages.
This site also appears to be one of those which generates enticement messages to non-subscribers. Check any messages to make sure they are relevant to your profile before you join to reply.
Seniorfriendfinder

Has over 40,000 members and includes gay seniors.

Probably the best bet for mature men looking for mature partners.

Part of the Adultfriendfinder group their membership structure is similar to Outpersonals with standard, silver and gold tiers.

Free Membership allows you to post a profile but you can only respond to advertisers more than once every 24hrs if you take out a membership.

Silver membership allows you to view photos, send unlimited emails and gives enhanced searching facilities.

Gold provides premium listing of your ad, filtered email, priority ad listings and top search facilities.
Couples
In addition to the specialist site below, some of the dating sites allow linked profiles for couples including Gaydar and Gay.com
MeetGayCouples.com

Dating site for couples to meet others for social as well as intimate encounters.
Dating Books - See also Books section

Male Men Seeking Men: Adventures in Gay Personals
by Michael Lassell (Editor)
Reviews:
List Price: $15.00
GrayGay.com comments: A collection of authentic (perhaps representative) gay male experiences.

Mr. Right Is Out There
The Gay Man's Guide to Finding and Maintaining Love by Kenneth D. George; Paperback January 2003
Reviews:
List Price: $13.95
GrayGay.com comments: Finding the right man is just the beginning. Figuring out how to build a tong-lasting relationship is the next challenge.

Husband Hunting Made Easy And Other Miracles for the Modern Gay Man by Patrick Price
Reviews:
List Price: $12.95
GrayGay.com comments: Finding, getting, and keeping the husband of one's dreams
The Senior's Guide to Dating (Again): Traditional And Online by Rebecca Sharp Colmer, Todd M. Thomas
List Price: $16.95
GrayGay.com comments:
Advice and information for those who are getting back into the dating game.